Getting Fruity…
Well, it's almost spring (!) and I'm trying to keep the sunshine alive at the milliners despite rain, flooding, and now, ice & snow.  This can be a quiet time of year which is excellent for getting the showroom ready for the coming season.  The flooding in Taunton was so dire recently the police denied me access to my shop.  I am overlooking the currently turbulent River Tone, but really people, I am on the first floor!  Anyway I made an evacuation hat just in case I needed to be air-lifted to safety and would have the chance to appear on the local news!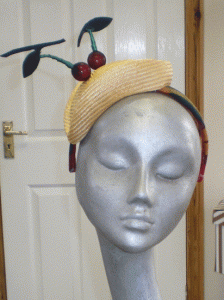 This is 'Cherry Pie'; a triangular blocked piece of parisisal straw set on a wide tartan covered headband with some (painstakingly) handmade cherries… I liked it so much I also made  'Cherry Cake';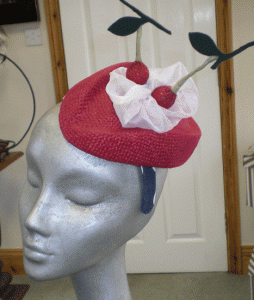 For this I covered the parisisal with some tulle to soften it and set it on a wide headband that I covered with a large-polkadot patterned fabric. Note the squirty cream beneath the cherries!  And I liked this so much that I made 'Cherry Pavlova';
I blocked this parisisal on a toque block and draped it with an unstiffened straw studded with little knots.  Originally I intended it for a showroom piece, but I have to say it looks surprisingly flattering on.  I restrained myself to two cherries but was tempted to cover the whole structure.  The parisisal has a light silver spraying to give it some meringue-crunchy, frosty shine.
I am currently inspired by fruit (experimenting how to represent it with in a way that is practical for millinery), investigating fabric prints available, and the potential for putting my own designs onto fabric.  I have been taking my sketchbook around recently and using watercolour pencils and crayons to capture ideas that amuse me.  Millinery is surely not a science, just something to have fun with.  Flowers begone, it is the year of fruits!