Bicornes and Cloches…. And Farewell to the Fascinator!
Crikey, long overdue for a blog update, anyone would have thought I'd been busy!  It's not been easy to come up with a new design to compete with the (now) ubiquitous 'saucer' or 'satellite dish', many of which I have made in the last eighteen months…….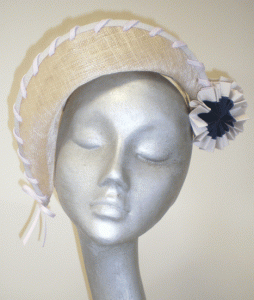 But… Here it is.. My new passion for all things Bicornered and Cloche like!  A very flattering style that frames the face and does not rely on silk flowers to look striking, and, I hope, with a tiny sense of humour!  We are great at wearing hats in the UK, it is expected and admired, and it can be fun.  Fantastic!
Oh, Ok, one does sport a silk flower but there has to be some crossover sometimes, and flowers are very pretty.  The other version below is a cloche hat in parisisal straw which still has the lovely sweep over the face but can also look very cute and retro; I would say it doesn't give the same illusion of height as the ones above as the crown and the brim at the rear sit very snugly to the head.
It is refreshing to come up with something new, although I now have several classics that I will always keep, as style and elegance do not go out of fashion!
I have also been busy with the merchandising for  the christmas show at the The Brewhouse Theatre and Arts Centre  (Taunton).  The production is 'The Wind in The Willows' based on the book by Kenneth Grahame, with the script being written by Robert Miles.  I must say it has been a challenge in coming up with some simple designs, easily mass-produced and with a very slim budget.  I am not used to such challenges but hopefully all the children coming to see the production over the next five weeks will enjoy wearing rodent ears, mole face sets, and 'make-your-own' badger mask sets.  Many thanks to CustomPlastics in Wellington for their help and their fantastic laser-cutting machine which has made all the difference!
Pictures to follow!