How it Works!
With almost thirty years of millinery experience in making and teaching, I am able to offer a relaxed and (often humorous) approach to finding the right compliment to your stye and outfit.  It can be difficult to feel relaxed in a formal outfit and I feel a good hat should bring confidence and joy.  I like to work on individual styles and often in an understated, elegant and witty manner incorporating your ideas and my experience.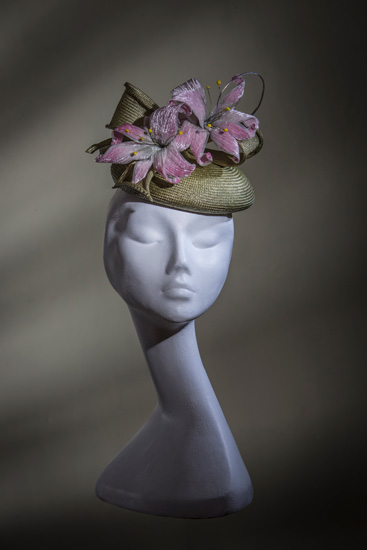 I work from a small, but well-equipped studio, and keep a few samples of my work available for trying on.  All dyeing and making is done on the premises.  I love making and painting delicate and beautiful silk flowers to compliment classic shapes and am currently working on some Japanese cherry blossom designs.  I work in traditional materials (as I was taught many years ago) and like to keep up to date by exploring and developing new ways to make three dimensional shapes from flat fabrics.  For me, millinery is about visualising the right accompaniment for you and your outfit in an harmonious balance and, above all, it needs to be beautiful and comfortable!
In this age of twitter, instagram and so on I realise people want hundreds of pictures to scroll through.  I have hatted hundreds of people and have many, many pictures, but yours will be different, and I like to live in the present!  If any of the above sounds like what you are looking for please just give me a ring on 07976938197 or use the contact email page and we can have a chat.  Prices are from £175 to £300 and that includes as many visits as it takes to get it right.
Lisa