Having spent the last two months flat-out on some new designs I was excited to deliver them to the photographer David Leyland today and get them photographed….. unfortunately my IT Dept (boyfriend) is away at music school for the week and so cannot update the site for me, although he does just about trust me to write a blog… anyway some pics here.  I have been experimenting with different materials and some treasured old blocks and some new, still awaiting a new design currently in the safe hands of Owen Morse-Brown blockmaker.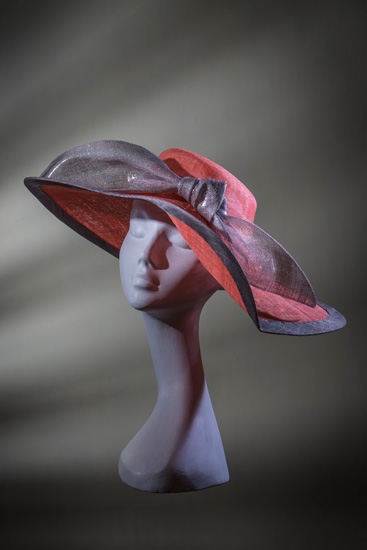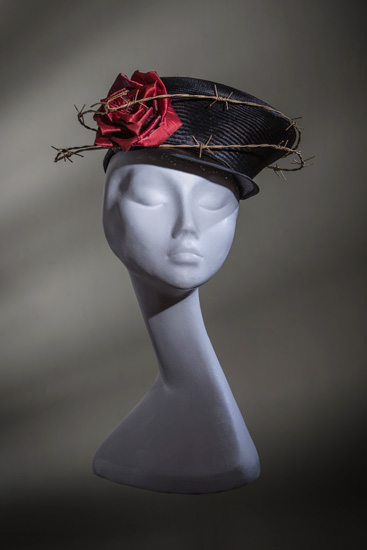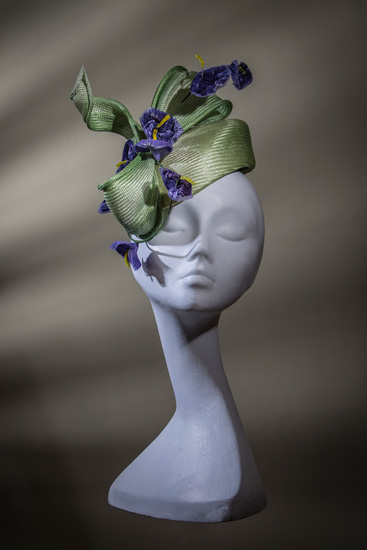 Well, after a year of focusing on building renovations I felt my mind had been somewhat off the ball as far a millinery was concerned so I booked myself in for a Millinery Masterclass with the superbly talented Bridget Bailey of Bailey Tomlin Hats (Baileytomlin.com).  Bridget is known for her finely crafted pieces and excellent eye for colour;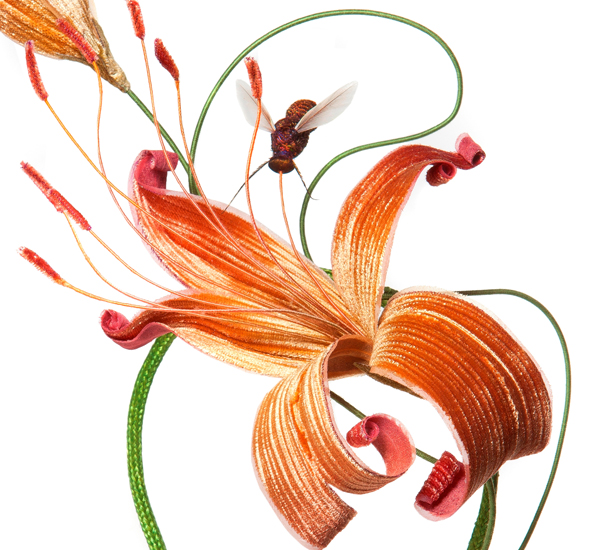 She made this 'Lily and Bumblebee'!
Bridget was a very patient teacher and showed me many techniques.  Visiting her studio was like being in mine, it was affirming to see someone else use fabrics and dyes in the way I do.  I never get to meet other milliners or see how they work as there are so few of us around.
Bridget has had a long career in millinery and now does alot of teaching as well as bespoke commissions.  I love the detailed way in which she approaches things but am trying to balance that with keeping a showroom well stocked and, providing a bespoke service that is not exorbitantly expensive, but I have been indulging in taking a whole day on one flower because it is just so satisfying!
Below are some pictures below of our day, Bridget, and my efforts in the last week buzzing off the new learning.  Learning is great, never get complacent!
Overdue for a catchup here but it's been exceptionally busy.  The new shop looks amazing thanks to some hard work by the builders and decorators and the building has been completely re-pointed so hopefully no more leaks, and a sturdy structure for many more years… oh, and a bit of 'controversial' yellow paint!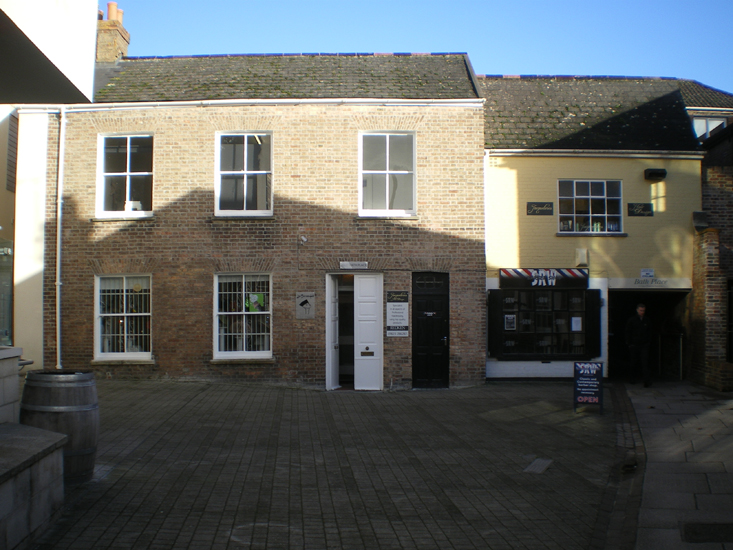 That's it for scaffolding for a while!  The shop inside;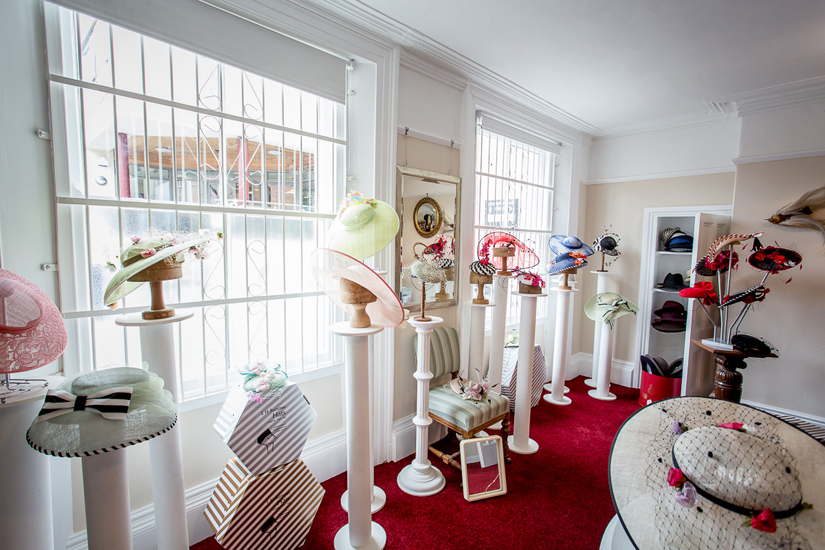 Now I'm done with choosing light-fittings and carpets it's a relief to start a new season off with just millinery on my mind.  I'm keeping some of my classic pieces but also busy designing some new friends using a less structured approach.  I'm bored with stiffened sinamay so am using unstiffened pinok pok, ruching, elastic and draping to see what effects I can achieve… hoping for diaphonous elegance with a modern touch.  'Vintage' and 'Retro' are two of the most overused words now and whilst it is not difficult to recreate some of the old classic looks, I find it is fairly acheivable and have encouraged some customers to scour the charity shops and have a go themselves.  I am looking for something more modern, and at least as flattering.  I just hope no-one else brings me in a picture of Audrey Hepburn and asks me to re-create the hat……. lets be more adventurous!  Photos soon when I am happy with the new pieces!
Yep, been very quiet recently as have been busy concentrating on moving my business from one side of Taunton to the other.  After having leased business premises for the last twelve years the option to actually acquire a premises came up about six months ago.  It has been a fairly evenly balanced decision between head and heart…, but…… I have always loved Bath Place. most of the buildings are characterful, and listed, and mostly inhabited by small, sometimes quirky, independents.  The nature of the alleyway and buildings pretty much preclude them being desirable by any of the major highstreet retailers  Hurrah!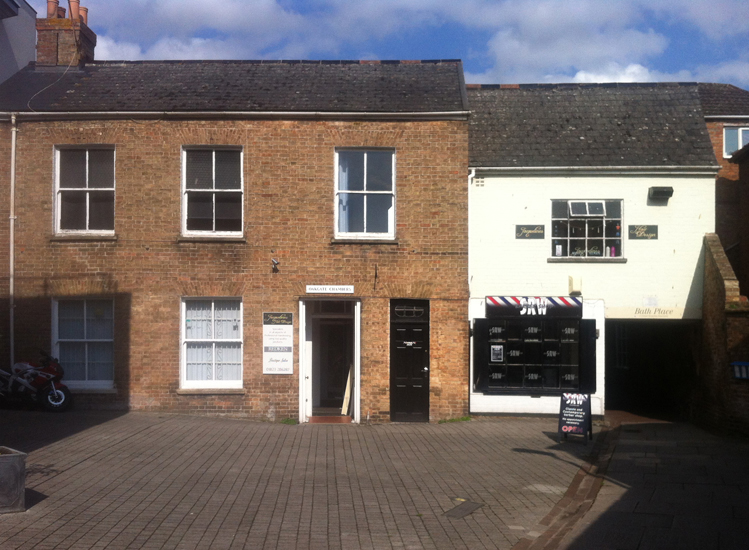 This is my new place from the front, it spans the alleyway at the bottom of Bath Place!  Already home to Jacquelines Hair Design and SRW Barbershop I will be making my shop in the downstairs to the left of the front door, and also have three beautiful light studios to let out upstairs.  The building has been a long-term commercial property and it shows; it is in serious need of some major modernisation..  I am lucky to have John who has already spruced up the woodwork and hallway and is currently on the outside window frames (weather permitting).  I also have Mark who has started on the downstairs which is to be my shop… daunted? Me, well a little but also very excited…
Hoping to be in soon, I have been acquiring some quirky furnishings to do it justice!  I do have a scratch workshop and showroom upstairs so am still taking/making up orders.
I was thrilled to be asked by the soprano Elizabeth Watts to come up with something for her to wear at The Last Night of the Proms.  She was singing solo soprano in the song 'Taillefer' by Richard Strauss.  Taillefer was a minstrel at The Battle of Hastings, and Liz asked me for an arrow, as King Harold famously died at the battle by  having an arrow shot through his eye!  This is a shot of Liz backstage before going on, and a screen shot from the BBC IPlayer showing her at the concert……..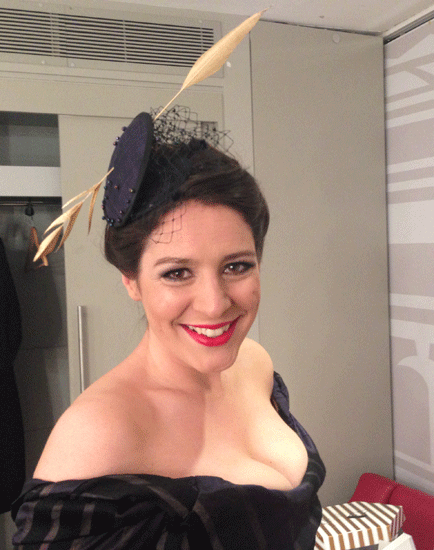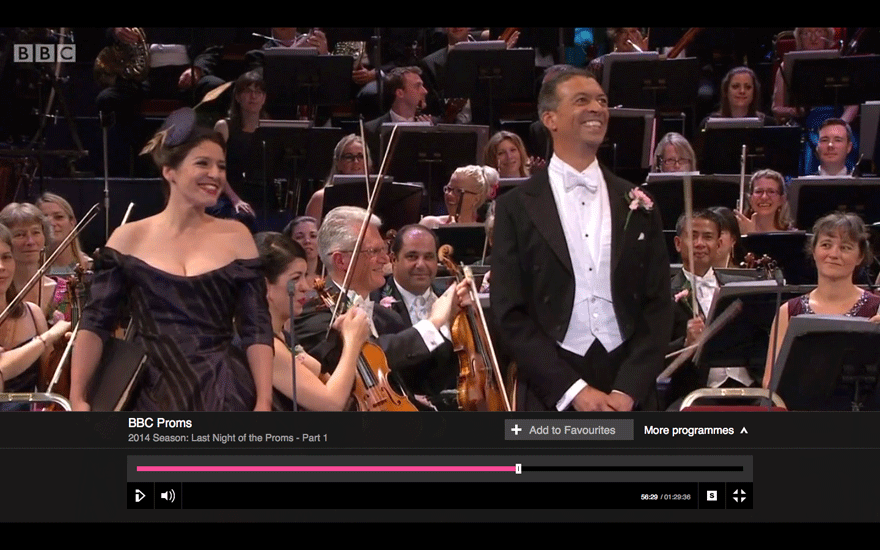 I liked Liz's sense of humour and was very pleased that she wore my creation to such an auspicious event, we could have been more comedic with the eyeball but I tried to keep in with her fabulous Vivienne Westwood gown which is being auctioned off for charity post prom.
The base is made of pinok pok which I dyed to go with the frock and stitched on a few beads; I would have liked to really sparkle it up but Liz did not want too much distraction around her face.  The arrow is made from two parrot feathers cut and sprayed.
It was great to watch the proms, and even if I didn't make it into the Royal Albert Hall, at least my hat did!