What a wonderful experience it was to meet my millinery hero Stephen Jones last week.  I went to a talk at the Dirty Martini cocktail bar in Monument, London as part of the London Hat Week.  The talk was an informal chat between Hilary Alexander (former fashion editor of The Daily Telegraph, amongst other things), and Stephen Jones.
When I first became interested in hats, in the early 1990's, I became aware of Stephen and his talent.  He was always, in my eyes, the witty milliner.  He had a great skill in technical millinery, but his imagination and artistry is what made his work resonate with me.  I aspired to his abilities and have made many copies of his hats, not to sell, but to see if I was able.  He has had an amazing career hatting royalty, celebrities and being the milliner of choice for many designers on the catwalks.  He now runs the millinery workrooms at Dior, and has remained my favourite milliner to date.  He has inspired many and undoubtedly introduced trends and contributed to the popularity of millinery over recent times.
He was chatty and witty during the talk and managed to get a few hats onto Hilary, making her smile, and was delightfully modest.  He told us he used to drive a white van to earn a living whilst making hats in the evenings, and I related to his stories about the desire for a life in millinery whilst dealing with the practicalities of paying the bills!
I managed to meet him afterwards and said he was one of my main inspirations, and partially responsible for getting me involved in millinery for which I thanked (and at times, didn't) thank him!  He was charming and held my hands, and I was able to present him with a small gift of a cross-stitch which I had made for him.  It was such a thrill to hear him talk, and also to realise what a thoroughly nice man he was.  Here he is….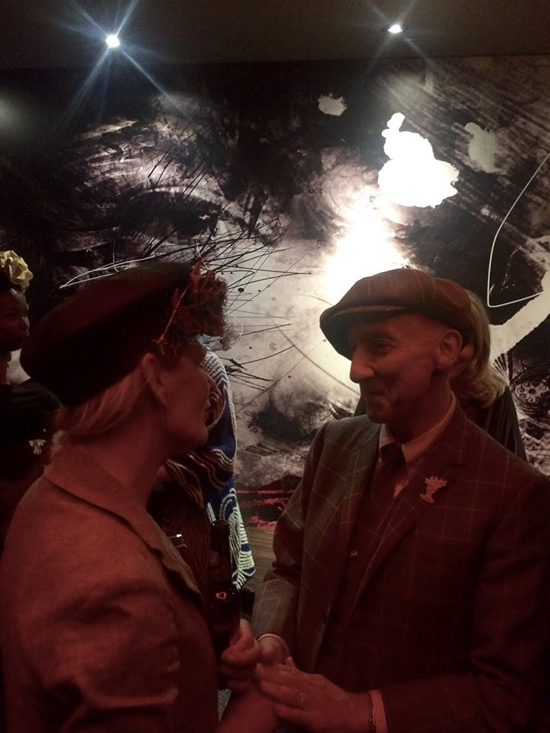 My business is based in Taunton, county town of Somerset.  It is a fairly large town with a sprawling shopping area that has evolved rather than been designed with any identifiable centre, and, as with most towns now, has a fair amount of empty, ugly, dated buildings no longer fit for the large shops that we used to find in our towns.
The council developers are planning to build a new development on one of the carparks to introduce yet more shops, restaurants and coffee outlets, whilst seemingly ignoring the infrastructure that we have already available.  I think this is the wrong way to improve our town.  The existing aeas will just become more dilapaded, and the small independants that give character to the town will not be able to afford rents in brand new developments, meaning that we will have yet more chain coffee shops, restaurants and cheap/mid-range chain stores that Taunton is already awash with.  I think the council should support new enterprise and value the small independants and the life, character and people they bring into our towm.  My letter to the local Somerset County Gazette;
http://www.somersetcountygazette.co.uk/letters_and_comment/14486083.LETTER__Taunton_needs_to_remember_independent_traders_during_redevelopment/
Having spent the last two months flat-out on some new designs I was excited to deliver them to the photographer David Leyland today and get them photographed….. unfortunately my IT Dept (boyfriend) is away at music school for the week and so cannot update the site for me, although he does just about trust me to write a blog… anyway some pics here.  I have been experimenting with different materials and some treasured old blocks and some new, still awaiting a new design currently in the safe hands of Owen Morse-Brown blockmaker.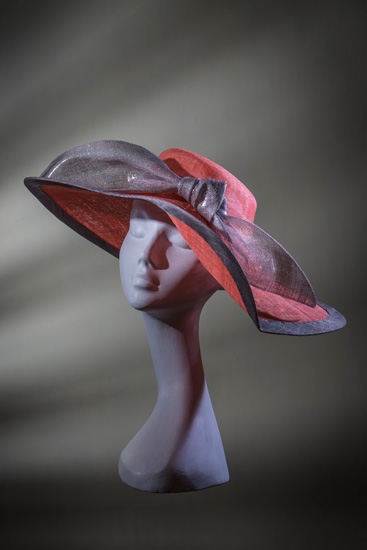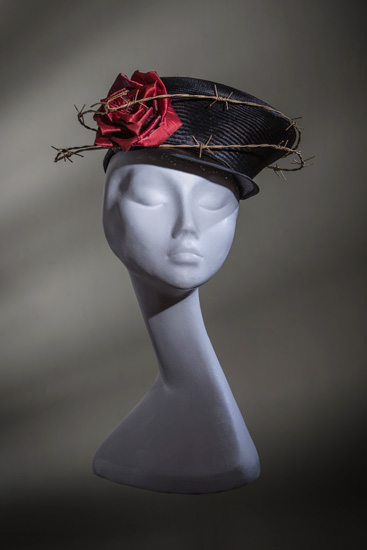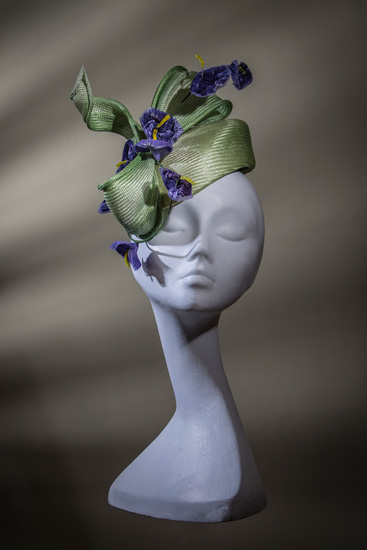 Well, after a year of focusing on building renovations I felt my mind had been somewhat off the ball as far a millinery was concerned so I booked myself in for a Millinery Masterclass with the superbly talented Bridget Bailey of Bailey Tomlin Hats (Baileytomlin.com).  Bridget is known for her finely crafted pieces and excellent eye for colour;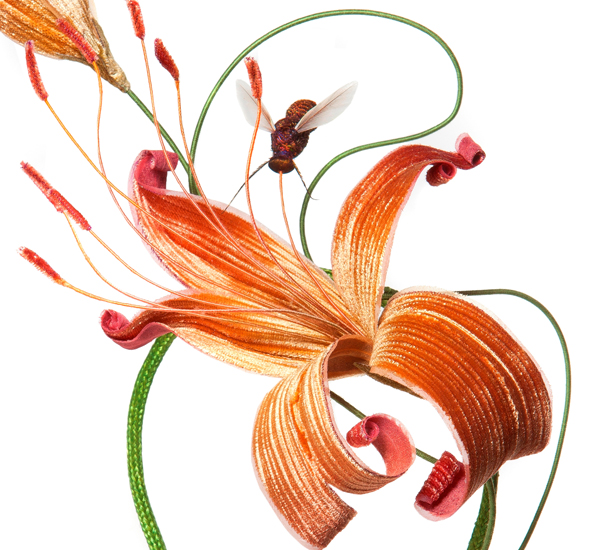 She made this 'Lily and Bumblebee'!
Bridget was a very patient teacher and showed me many techniques.  Visiting her studio was like being in mine, it was affirming to see someone else use fabrics and dyes in the way I do.  I never get to meet other milliners or see how they work as there are so few of us around.
Bridget has had a long career in millinery and now does alot of teaching as well as bespoke commissions.  I love the detailed way in which she approaches things but am trying to balance that with keeping a showroom well stocked and, providing a bespoke service that is not exorbitantly expensive, but I have been indulging in taking a whole day on one flower because it is just so satisfying!
Below are some pictures below of our day, Bridget, and my efforts in the last week buzzing off the new learning.  Learning is great, never get complacent!
Overdue for a catchup here but it's been exceptionally busy.  The new shop looks amazing thanks to some hard work by the builders and decorators and the building has been completely re-pointed so hopefully no more leaks, and a sturdy structure for many more years… oh, and a bit of 'controversial' yellow paint!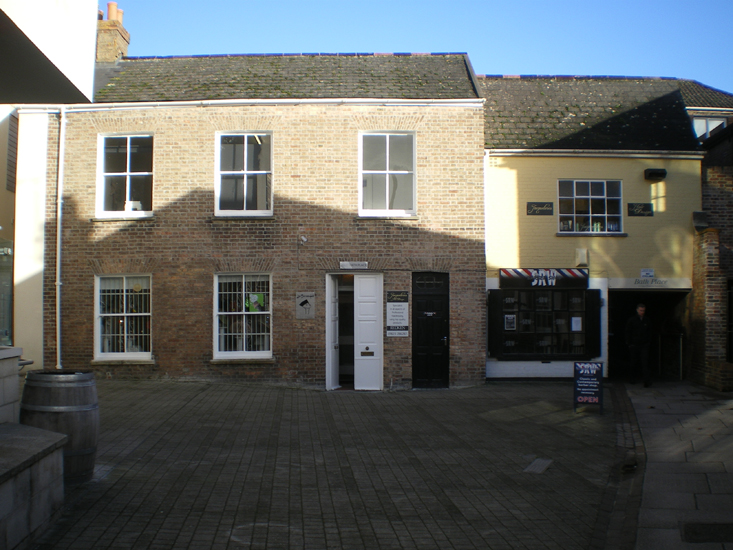 That's it for scaffolding for a while!  The shop inside;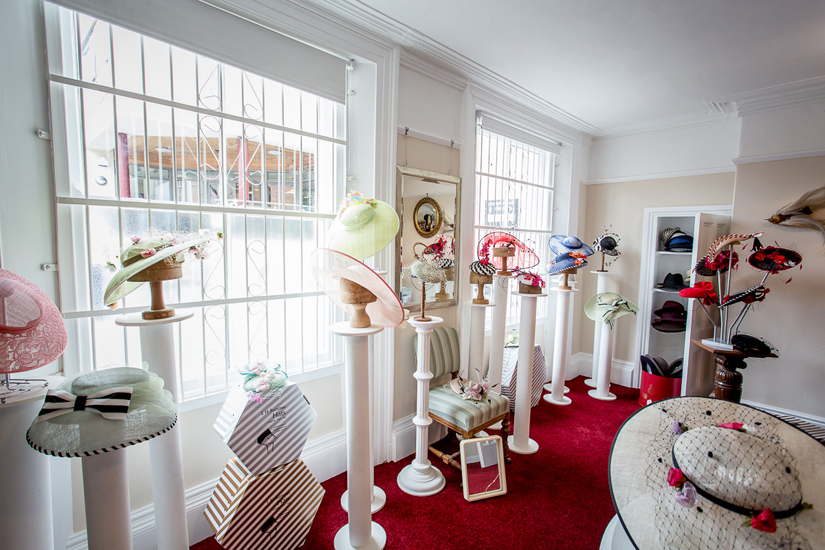 Now I'm done with choosing light-fittings and carpets it's a relief to start a new season off with just millinery on my mind.  I'm keeping some of my classic pieces but also busy designing some new friends using a less structured approach.  I'm bored with stiffened sinamay so am using unstiffened pinok pok, ruching, elastic and draping to see what effects I can achieve… hoping for diaphonous elegance with a modern touch.  'Vintage' and 'Retro' are two of the most overused words now and whilst it is not difficult to recreate some of the old classic looks, I find it is fairly acheivable and have encouraged some customers to scour the charity shops and have a go themselves.  I am looking for something more modern, and at least as flattering.  I just hope no-one else brings me in a picture of Audrey Hepburn and asks me to re-create the hat……. lets be more adventurous!  Photos soon when I am happy with the new pieces!