Who Wants to be a Milliner? Winner!!
I was lucky enough to be asked to compete in an event at Cheltenham Fashion Week recently.  It was a very glitzy evening in which I and two other milliners had to make a hat on stage in front of an audience.  We also had beautifully made-up and coiffured models to wear our hats in a catwalk show.  This all took place at The Chapel Spa in the centre of Cheltenham and was attended by several notables from the word of millinery, press and guests.  Everyone was very well dressed and we were all treated to cocktails and canapes……….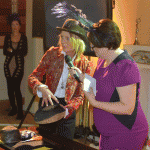 This is me with Denise Innes (The British School of Millinery) explaining the first stage of my hat to the audience.  Our brief was for a hat to be worn at a preview of The Chelsea Flower Show.  The materials (Sinamay, crinoline, ostrich feathers and coq feathers) were supplied by The Trimmings Company.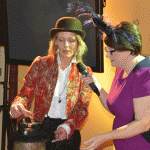 Here I am explaining a further stage………… We were asked at intervals during the show to talk about our creations.
I am using 2 dainty little blocks which are favourites of mine to create a delicate black hat on which I will tumble lots of little rosebuds as though my lady has just bumped into one of the rose displays at the flower show!  I always like to introduce some humour into my pieces.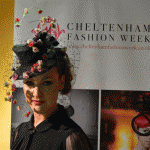 And…. the finished hat!
The audience voted and to my surprise and delight, I won!  It was a real thrill to parade on the catwalk, my model did not let go of my hand, I think she was worried that I would fall over/run away as I am not really at ease centre stage..  Anyway I managed and even managed a smile or two for the many photographers there.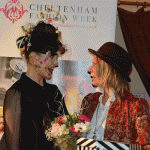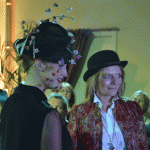 Another close-up of my hat…. and a few shots from the catwalk show.  I am still awaiting the press photos, these I am using now were all taken by my glamorous assistant Jules.  The other milliners competing were Jessie Clifford (Frampton-on-Severn) and Dillon Wallwalk (London).  Their hats were beautiful and very well made…. The evening was a competition but also a friendly and fun way to put the spotlight on millinery, we all had a giggle !