Spaghetti Western Punk!
Well.. A change from the normal!  I was a little challenged last week by a request from a musician to create a hat for stage performances…. He was excellent in giving me very specific criteria for the hat, but really, if you do not have the correct block, it can present some difficulties..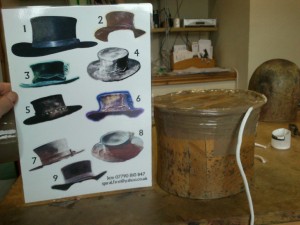 So… after some thought I attempted to modify my 5 piece topper block to give the exaggerated swell at the tip of the crown.  Several lengths of hat-box cord and parcel tape seems to work…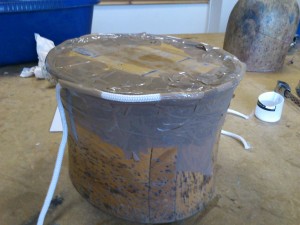 I then overlaid it all with clingfilm (slightly unsure of how to deblock the felt being that I had now stuck all five pieces of block together) and stiffened my wool felt with a large amount of stiffeners.  This hat is to be worn on a lively show, thrown around and covered with flour… so substantial in body to say the least…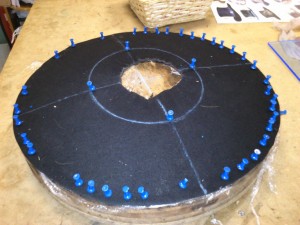 And so more hard work involving a set square and some geometry…. a brim of 3.5″ all round and slightly downturned, again large amounts of stiffeners went into this felt.  I used a buckram collar and heavy duty wire for the brim and threw on lots more stiffeners to the finished shape espicially aroung the head line.
And the finished article; virtually indestructible but I am awaiting the roadtest reports and the images from the photoshoot.  The Shoe Doctor (Seb) around the corner kindly rivetted together the pieces of leather to make this rather fine hat band for me.  I am pleased with the shape even though the whole construction took about 2 days, meanwhile back to dainty pill boxes and le fleur!
OK the results, some pictures bought in to me by Jem today;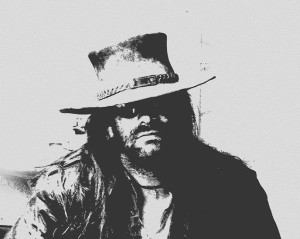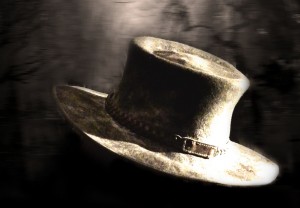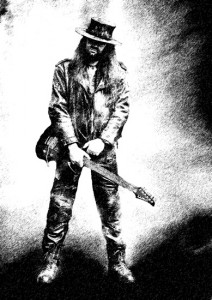 So nice to see some images, very happy with the results!