Fun!  A chance to meet some new and old customers whilst inspecting the sartorial style of the Ladies and Gentlemen patronising our local racecourse.  It was a lovely opportunity to get out of the shop and sport the wares alfresco.  A hastily bought gazebo and a smart new banner (both erected by Jules) secured our pitch and the rain held off for an exciting days trading and racing;
Met some lovely people with a few spurious betting tips.. my preferred method was to select the horse which looked a bit mad and unpredictable, which, with hindsight, is no way to win money!  My first horse got pulled up 2 seconds into the race, my second bet on a horse was an each way bet (unfortunately I didn't check the odds, and even if it had won, I would still have lost money!  My final flutter was on a rank outsider who came in last, and I subsequently learnt that it was unusual for him to ever actually finish a race……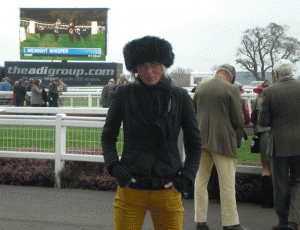 And here's me looking a bit 'Pippa Middleton' with my faux fur band….  I started off the day wearing a straw hat, progressed onto a check tweed baker boy, then a khaki felt, and , as the sun left us and the cold evening arrived, ended up in fur.  There was a competition for the best hat and the best dressed lady, but the unpredictable weather had some in coats and macs, some in teeny dresses and high heels, and some in stout tweeds.  I was impressed by the brave ladies who sported smart summer day-wear and hats, but felt for them in the chilly air.A great day out and am hoping Jules and I will be able to make Wincanton Ladies Day on 14th May.
Well, it's almost spring (!) and I'm trying to keep the sunshine alive at the milliners despite rain, flooding, and now, ice & snow.  This can be a quiet time of year which is excellent for getting the showroom ready for the coming season.  The flooding in Taunton was so dire recently the police denied me access to my shop.  I am overlooking the currently turbulent River Tone, but really people, I am on the first floor!  Anyway I made an evacuation hat just in case I needed to be air-lifted to safety and would have the chance to appear on the local news!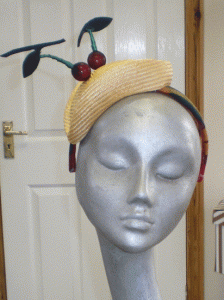 This is 'Cherry Pie'; a triangular blocked piece of parisisal straw set on a wide tartan covered headband with some (painstakingly) handmade cherries… I liked it so much I also made  'Cherry Cake';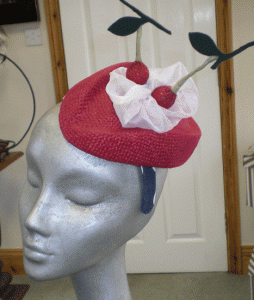 For this I covered the parisisal with some tulle to soften it and set it on a wide headband that I covered with a large-polkadot patterned fabric. Note the squirty cream beneath the cherries!  And I liked this so much that I made 'Cherry Pavlova';
I blocked this parisisal on a toque block and draped it with an unstiffened straw studded with little knots.  Originally I intended it for a showroom piece, but I have to say it looks surprisingly flattering on.  I restrained myself to two cherries but was tempted to cover the whole structure.  The parisisal has a light silver spraying to give it some meringue-crunchy, frosty shine.
I am currently inspired by fruit (experimenting how to represent it with in a way that is practical for millinery), investigating fabric prints available, and the potential for putting my own designs onto fabric.  I have been taking my sketchbook around recently and using watercolour pencils and crayons to capture ideas that amuse me.  Millinery is surely not a science, just something to have fun with.  Flowers begone, it is the year of fruits!
Crikey, long overdue for a blog update, anyone would have thought I'd been busy!  It's not been easy to come up with a new design to compete with the (now) ubiquitous 'saucer' or 'satellite dish', many of which I have made in the last eighteen months…….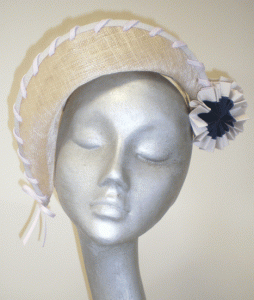 But… Here it is.. My new passion for all things Bicornered and Cloche like!  A very flattering style that frames the face and does not rely on silk flowers to look striking, and, I hope, with a tiny sense of humour!  We are great at wearing hats in the UK, it is expected and admired, and it can be fun.  Fantastic!
Oh, Ok, one does sport a silk flower but there has to be some crossover sometimes, and flowers are very pretty.  The other version below is a cloche hat in parisisal straw which still has the lovely sweep over the face but can also look very cute and retro; I would say it doesn't give the same illusion of height as the ones above as the crown and the brim at the rear sit very snugly to the head.
It is refreshing to come up with something new, although I now have several classics that I will always keep, as style and elegance do not go out of fashion!
I have also been busy with the merchandising for  the christmas show at the The Brewhouse Theatre and Arts Centre  (Taunton).  The production is 'The Wind in The Willows' based on the book by Kenneth Grahame, with the script being written by Robert Miles.  I must say it has been a challenge in coming up with some simple designs, easily mass-produced and with a very slim budget.  I am not used to such challenges but hopefully all the children coming to see the production over the next five weeks will enjoy wearing rodent ears, mole face sets, and 'make-your-own' badger mask sets.  Many thanks to CustomPlastics in Wellington for their help and their fantastic laser-cutting machine which has made all the difference!
Pictures to follow!
Last weekend we took our new Gentleman's Hats venture to Didmarton Bluegrass Festival on Kemble Airfield in Gloucestershire… This is because Jules Bushell, champion of  'The Gentleman's Area', is also a musician who plays double bass (mandolin, saw, phonofiddle etc….)with several bands.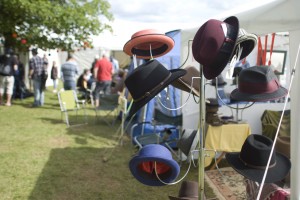 We set up a Gentleman's Front Room with our new range of hats from Christys, a rug, wind-up gramaphone and some 78s, and, of course, some tartan blankets….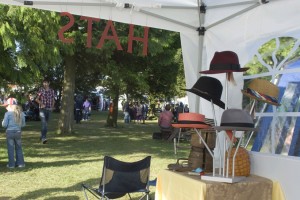 It was a fantastic event with a full programme over three days of bands (ages 18 – 88) playing bluegrass and variations thereof…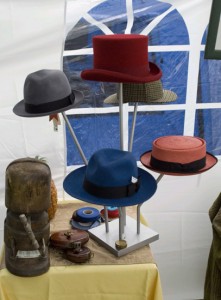 It was a great way to make some new friends, not least at the Ogri Bikers Clubhouse and bar, and well-stoked camp fire which burnt all night long….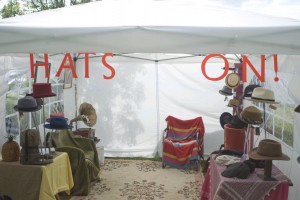 The first thing we did on return was to re-stock ready for Cornwall Bluegrass in two weeks time, the hats were very popular!  It was amazing to meet so many new friends and bring along our own style.  Sadly I did not make enough cash for a banjo, Jules is safe!
There has been a subtle murmur of excitement and preening of feathers among the lady residents at 14a The Bridge since the arrival of some very smart hats for the gentlemen.  Thank you, and welcome, Jules Bushell for championing the new 'Gentleman's Area'.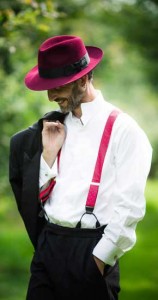 We now stock a range of classic and stylish hats and caps by Christys.  There are some splendid fine panama straws, classic fine fur felts and dress hats at around £70-£90, and a range of natty wool felts, straws and caps from the Christys Crown range, which are fashionably styled in vibrant colours, at £35-£40.  I have been wearing the wine-trimmed black straw shown below;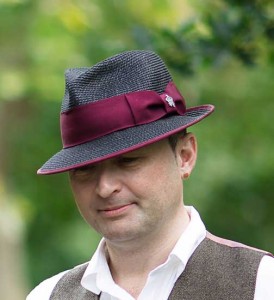 And am very taken with the fine black panama also,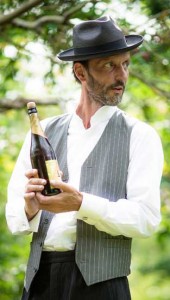 Many more images are now up on the 'Gentleman's Area' page on this site.  We had a lot of fun doing our photoshoot with Andy Jones (Shooting Pixels), who was an unintrusive and professional photographer, and was incredibly patient with our lack of organisation and professional models!
Next, we are off to Didmarton Bluegrass Festival with our gentleman's hats, the old gramaphone and some 78's, to create our 'Gentleman's Area' al fresco.  Music, sunshine and hats; let's see what occurs!