This is a great picture from David at www.Davidsavillphotography.co.uk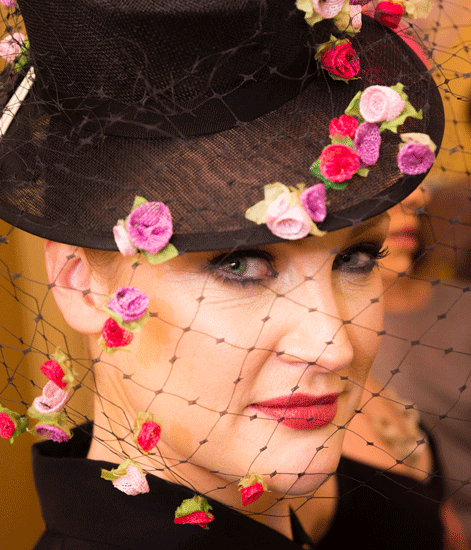 And a few images from Nick at www.nickatkinsphotography.co.uk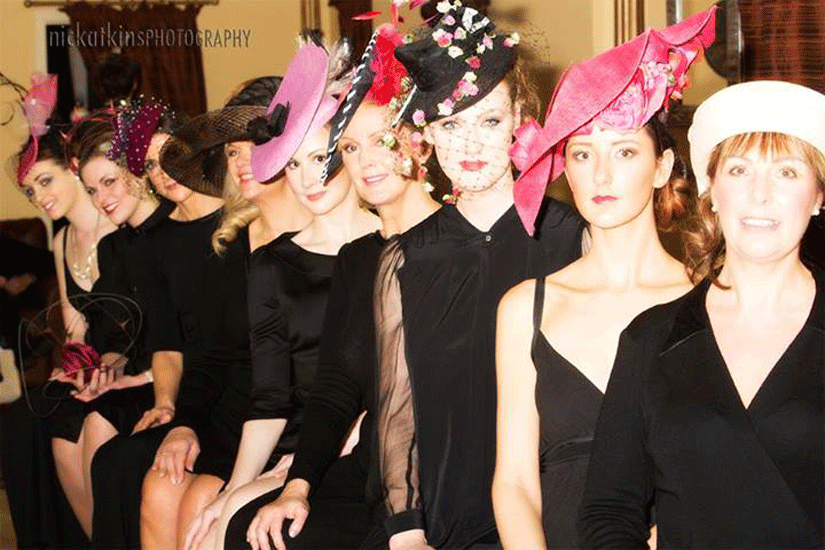 http://www.cheltenhamfashionweek.co.uk/auction-for-the-who-wants-to-be-a-milliner-hats
Here is the link to the official page giving some information and the photos of the other entries, and mine.  It was stiff competition and I was thrilled and happy to be the winner!  The last thing I ever won was a duvet in a raffle in the 1990's!
I was lucky enough to be asked to compete in an event at Cheltenham Fashion Week recently.  It was a very glitzy evening in which I and two other milliners had to make a hat on stage in front of an audience.  We also had beautifully made-up and coiffured models to wear our hats in a catwalk show.  This all took place at The Chapel Spa in the centre of Cheltenham and was attended by several notables from the word of millinery, press and guests.  Everyone was very well dressed and we were all treated to cocktails and canapes……….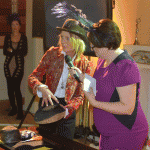 This is me with Denise Innes (The British School of Millinery) explaining the first stage of my hat to the audience.  Our brief was for a hat to be worn at a preview of The Chelsea Flower Show.  The materials (Sinamay, crinoline, ostrich feathers and coq feathers) were supplied by The Trimmings Company.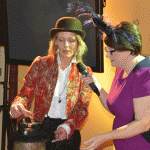 Here I am explaining a further stage………… We were asked at intervals during the show to talk about our creations.
I am using 2 dainty little blocks which are favourites of mine to create a delicate black hat on which I will tumble lots of little rosebuds as though my lady has just bumped into one of the rose displays at the flower show!  I always like to introduce some humour into my pieces.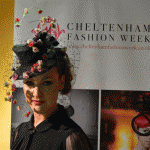 And…. the finished hat!
The audience voted and to my surprise and delight, I won!  It was a real thrill to parade on the catwalk, my model did not let go of my hand, I think she was worried that I would fall over/run away as I am not really at ease centre stage..  Anyway I managed and even managed a smile or two for the many photographers there.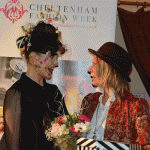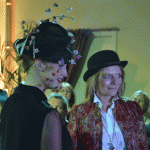 Another close-up of my hat…. and a few shots from the catwalk show.  I am still awaiting the press photos, these I am using now were all taken by my glamorous assistant Jules.  The other milliners competing were Jessie Clifford (Frampton-on-Severn) and Dillon Wallwalk (London).  Their hats were beautiful and very well made…. The evening was a competition but also a friendly and fun way to put the spotlight on millinery, we all had a giggle !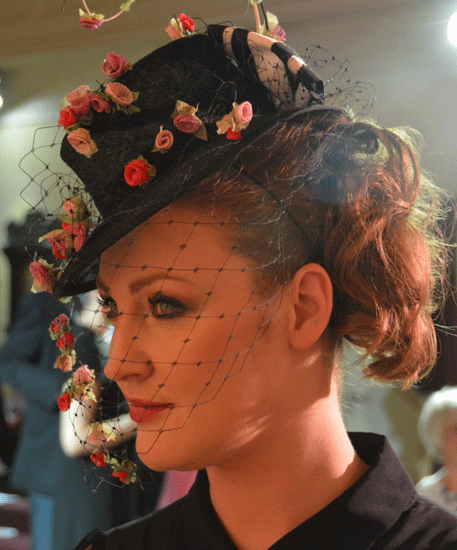 I have over a hundred hat blocks accumulated over the last twenty years from various sources and I love each and every one of them!  All of them have a story. Some from retired milliners, some passed on to me by the families of long-ago milliners, some I have commissioned and had made, and a large amount from Ann Bennett, the lovely octogenarian who first introduced me to millinery proper.  Ann died some years ago but some of her blocks are still my favourites (dating back to 1948 as the newspaper stuffed into the spinner holes evidences).  Many blocks are similar so rather than buy any more I am trying my hand at re-shaping some of the duplicates……
The first photo is my kitchen (with my homemade blackberry vodka in the background), a workmate and block which I am carving with a spokeshave.  It is a most enjoyable occupation but very time-consuming.
The second photo is the finished and sanded block.
The third is trying out the shape by blocking it with a sisal cap and lots of steam.
Hurrah, the last picture is the finished article.
(apologies for the photography, I used my phone for these)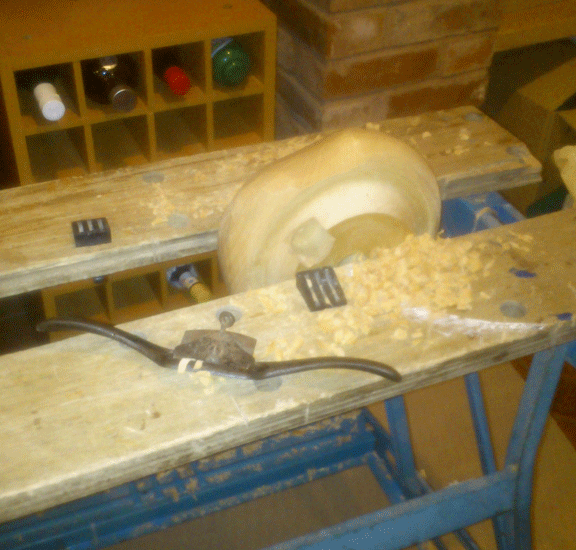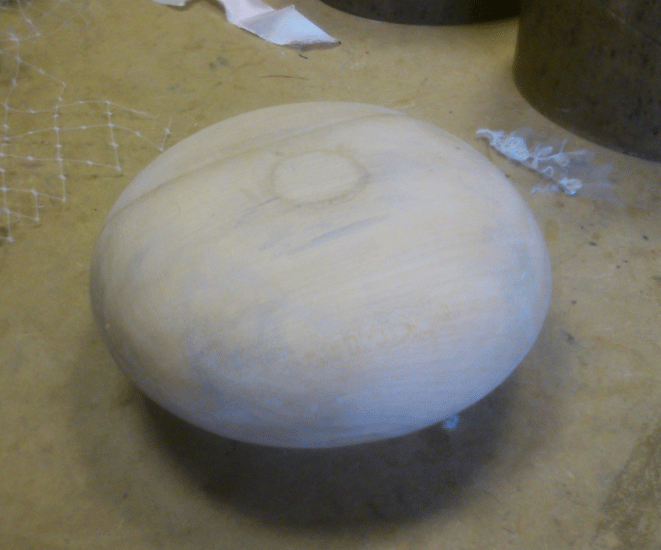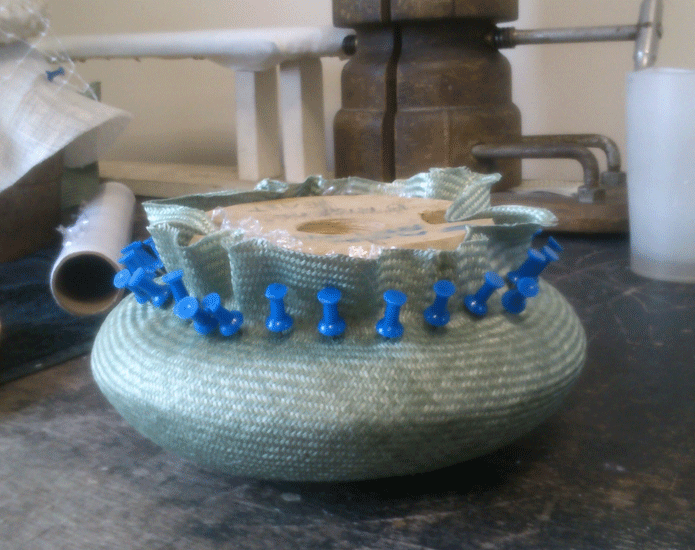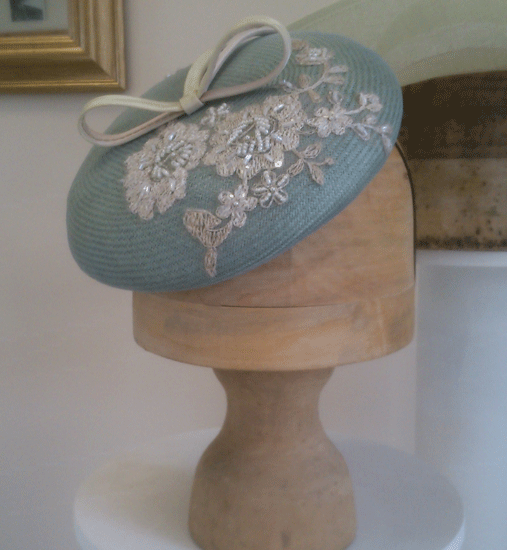 It has been some while since I have hosted any parties, but due to recent interest, I think it is time to accept the ensuing mayhem and have a few more.  I love it when the girls get together, dress-up in pretty frocks generally say nice things about how we all look, and, of course, eat cake and drink tea!  It is the most fun and I have a wealth of millinery materials in all colours and forms, and lots of samples for trying on and inspiration.  Everyone leaves with a finished piece to wear, and hopefully having exercised some creative muscle; millinery does not have to involve complicated technical skills, just a bit of thought and lots of enthusiasm!
Well, it's been a slow start this year but finally and convincingly picked up, not least with the rush for suitable race-going headwear.  Last year bought many orders of the same type of hat, namely the disc sporting spines, merry widow spot veiling, silk blooms et al, in all manner of sizes and frivolity.  This year I have had a many and varied menu from 1940's cocktail perchers to large picture hats adorned with delicate ruched pinok-pok.  I am liking big springy brims in just two layers of straw which give a lovely light frame to the face, and a relaxed, not structured feel.  I am thankful not to be making quite so many silk flowers, more getting drama from sculptural structures and simple trims, taking the outfit up onto the head in a gentle flow.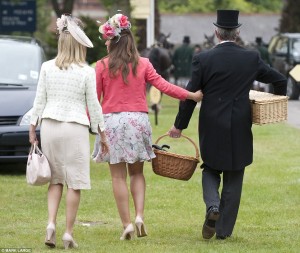 Saying this, I was pleased to see that the Daily Mail on-line had selected an image showing a mother and daughter who I had hatted last week.  Although not chosen for the striking headwear that some photos are, I am pleased that the words 'neatly-dressed' were used in the caption.  I am not a girl for bling or one-upmanship, rather, I hope, a gently humorous, English and elegant tastefulness!